Updated:

@

Summary / Temperature
Wind
Rain
Outlook

mostly clear

83.2°F






Warm



Feels like:

84°F



24-hr difference
1.9°F

Today
Yesterday
High:

83.9°F


1:30pm
83.8°F
1:07pm
Low:

64.8°F


5:51am
63.2°F
5:12am

WSW




2.0


Gust:


0.0 mph

1

Bft -

Light Air

Today:

10.4 mph

12:53pm

Gust Month: 12.7 mph August 4

Rain Today:

0.00 in

Rain Rate (/hr):

0.000 in

Rain Yesterday:

0.00 in

Storm Rain:
0.00 in
This Month:

0.00 in

Season Total:

0.00 in

72 days since last rain.

Tonight


Partly Cloudy


Humidity & Barometer
Almanac
Moon

Humidity:

50

%
Dew Point:

62.6°F

Barometer:

29.969 inHg

3-Hr Trend:
Falling

| | |
| --- | --- |
| Sunrise: | 6:15am |
| Sunset: | 7:27pm |
| Moonrise: | 6:03am |
| Moonset: | 6:48pm |

New Moon
0%
Illuminated

UV Index Forecast
UV Index Forecast

Aug-21-2017
10.1

Very High

Aug-22-2017
10.4

Very High
NWS Forecast - Mission Trails - Outlook: This Afternoon & Tonight
This
Afternoon

Sunny

Hi

79 °F

NWS Mission Trails: Sunny, with a high near 79. West wind around 8 mph.

WXSIM forecast: Mostly clear. High 83°. UV index up to 9. Wind west-northwest around 8 mph.

Tonight


Partly Cloudy

Lo

63 °F

NWS Mission Trails: Partly cloudy, with a low around 63. Northwest wind 3 to 7 mph.


WXSIM forecast: Clear. Moderate fog after midnight. Low 59°. Wind west-northwest around 5 mph.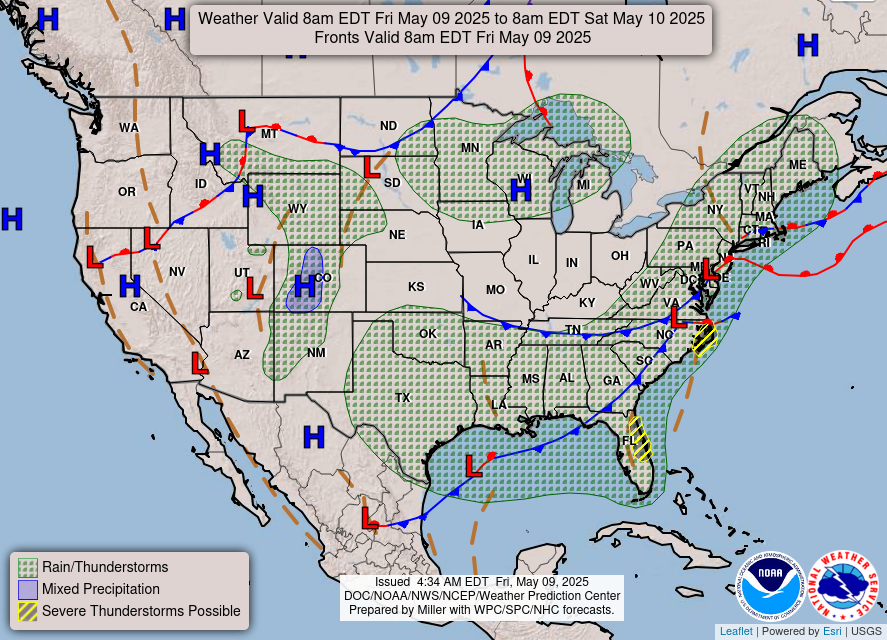 Tropical Storm Harvey Enters the Caribbean Sea
GOES-16 captured this image of Tropical Storm Harvey traversing the Windward Islands and entering the Caribbean Sea on August 18, 2017. Farther east in the Atlantic Ocean is another area of shower and thunderstorm activity that may strengthen into a tropical system soon.According to the NOAA National Hurricane Center, Harvey is experiencing shear that should keep it from strengthening in the next 48 hours, but after that conditions should be more conducive for slow strengthening.This image appears courtesy of our partners at the Cooperative Institute for Research in the Atmosphere (CIRA). To see more GOES-16 imagery and animations, visit the NESDIS website.Please note: GOES-16 data are currently experimental and undergoing testing and hence should not be used operationally.
Courtesy of NOAA Environmental Visualization Laboratory