Updated:

@

Summary / Temperature
Wind
Rain
Outlook

Mostly cloudy

65.1°F






Comfortable



Feels like:

65°F



24-hr difference
1.2°F

Today
Yesterday
High:

81.5°F


1:39pm
80.1°F
12:54pm
Low:

62.9°F


12:00am
60.3°F
10:40pm

E




0.3


Gust:


0.0 mph

0

Bft -

Calm

Today:

11.5 mph

2:28pm

Gust Month: 14.0 mph September 6

Rain Today:

0.00 in

Rain Rate (/hr):

0.000 in

Rain Yesterday:

0.00 in

Storm Rain:
0.00 in
This Month:

0.09 in

Season Total:

0.09 in

3 rain days in September.

Wednesday


Mostly Sunny


Humidity & Barometer
Almanac
Moon

Humidity:

79

%
Dew Point:

58.5°F

Barometer:

29.891 inHg

3-Hr Trend:
Rising

| | |
| --- | --- |
| Sunrise: | 6:35am |
| Sunset: | 6:48pm |
| Moonrise: | 6:55am |
| Moonset: | 6:45pm |

New Moon
0%
Illuminated

UV Index Forecast
UV Index Forecast
NWS Forecast - Mission Trails - Outlook: Tonight & Wednesday
Tonight


Mostly Cloudy

Lo

64 °F

NWS Mission Trails: Mostly cloudy, with a low around 64. Southwest wind 2 to 6 mph.

WXSIM forecast: Mostly clear in the evening, becoming fair to partly cloudy after midnight. Light to moderate fog in the evening, then moderate fog after midnight. Low 59°. Wind west around 2 mph.

Wednesday


Mostly Sunny

Hi

75 °F

NWS Mission Trails: Mostly sunny, with a high near 75. South wind 6 to 12 mph, with gusts as high as 18 mph.


WXSIM forecast: Sunny. Moderate to dense fog in the morning. High 80°. UV index up to 8. Wind south around 5 mph in the morning, becoming 9 mph in the afternoon.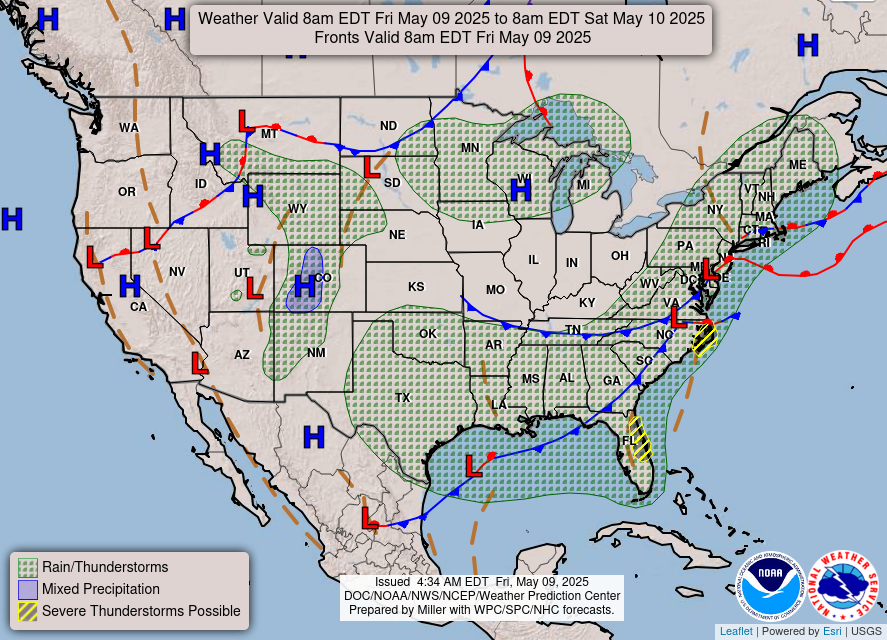 Hurricane Maria Now a Dangerous Category 5 Storm
This NOAA GOES-16 geocolor image shows Hurricane Maria as it moves across the northeastern Caribbean toward the Virgin Islands and Puerto Rico. The Category 5 hurricane made landfall on Dominica Monday night Sept. 18th. Created by our partners at the Cooperative Institute for Research in the Atmosphere, the experimental geocolor imagery enhancement displays geostationary satellite data in different ways depending on whether it is day or night. To see more images of the hurricane check out the NESDIS image gallery.
Courtesy of NOAA Environmental Visualization Laboratory