Updated:

@

Summary / Temperature
Wind
Rain
Outlook

---

77.2°F






Comfortable



Feels like:

77°F



24-hr difference
4.2°F

Today
Yesterday
High:

78.0°F


11:09am
77.2°F
1:07pm
Low:

48.3°F


6:19am
52.7°F
11:56pm

WSW




2.9


Gust:


1.4 mph

2

Bft -

Light Air

Today:

11.5 mph

8:20am

Gust Month: 15.4 mph May 8

Rain Today:

0.00 in

Rain Rate (/hr):

0.000 in

Rain Yesterday:

0.00 in

Storm Rain:
0.00 in
This Month:

1.25 in

Season Total:

18.86 in

5 rain days in May.

Tonight


Mostly Cloudy


Humidity & Barometer
Almanac
Moon

Humidity:

51

%
Dew Point:

57.7°F

Barometer:

30.005 inHg

3-Hr Trend:
Falling

| | |
| --- | --- |
| Sunrise: | 5:42am |
| Sunset: | 7:48pm |
| Moonrise: | 8:45am |
| Moonset: | 9:59pm |

Waxing Crescent
13%
Illuminated

UV Index Forecast
UV Index Forecast

28-May-2017
9.3

Very High

29-May-2017
9.1

Very High
NWS Forecast - Mission Trails - Outlook: Today & Tonight
Today


Sunny

Hi

73 °F

NWS Mission Trails: Sunny, with a high near 73. West northwest wind around 10 mph.

WXSIM forecast: Partly to mostly sunny in the morning, becoming sunny in the afternoon. High 82°. UV index up to 9. Wind west around 6 mph in the morning, becoming 13 mph in the afternoon.

Tonight


Mostly Cloudy

Lo

56 °F

NWS Mission Trails: Mostly cloudy, with a low around 56. West northwest wind 1 to 8 mph.


WXSIM forecast: Clear in the evening, becoming fair to partly cloudy after midnight. Low 52°. Wind west around 5 mph in the evening, becoming north near calm after midnight.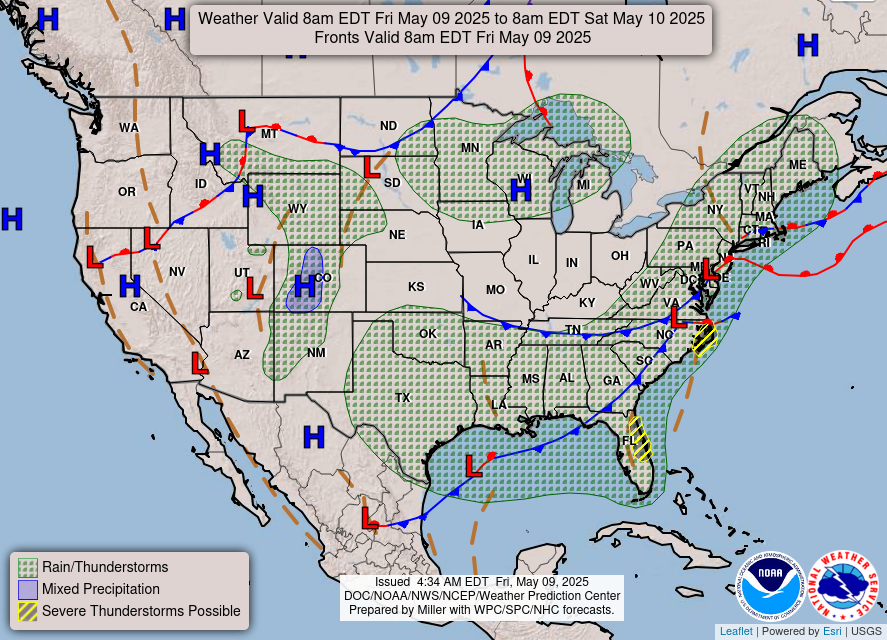 Von Karman Vortex Streets in the Pacific Ocean
Yesterday, May 24, 2017, the Visible Infrared Imaging Radiometer Suite (aka VIIRS) instrument aboard NOAA/NASA Suomi NPP captured this true-color image of a cloud street below Isla Guadalupe, to the west of the Baja Peninsula. Cloud streets typically form long straight lines over large flat areas of the ocean. However, geological features, like islands and volcanoes, can disrupt the flow of the wind and create spiral patterns, not dissimilar to the way large boulders create downstream eddies in rivers. The spirals, called von Karman vortex streets, were named after Theodore von Karman, a co-founder of NASA's Jet Propulsion Laboratory, who was one of the first scientists to describe this type of atmospheric phenomenon.
Courtesy of NOAA Environmental Visualization Laboratory