Updated:

@

Summary / Temperature
Wind
Rain
Outlook

Night time, Fog

43.5°F






Cold



Feels like:

44°F



24-hr difference
-2.5°F

Today
Yesterday
High:

63.6°F


2:07pm
61.4°F
2:04pm
Low:

40.5°F


6:42am
46.0°F
11:40pm

SSW




0.0


Gust:


0.0 mph

0

Bft -

Calm

Today:

11.5 mph

2:48pm

Gust Month: 12.7 mph January 1

Rain Today:

0.00 in

Rain Rate (/hr):

0.000 in

Rain Yesterday:

0.00 in

Storm Rain:
0.00 in
This Month:

1.69 in

Season Total:

8.53 in

7 rain days in January.

Wednesday


Decreasing
Clouds


Humidity & Barometer
Almanac
Moon

Humidity:

92

%
Dew Point:

41.3°F

Barometer:

30.182 inHg

3-Hr Trend:
Rising

| | |
| --- | --- |
| Sunrise: | 6:49am |
| Sunset: | 5:06pm |
| Moonrise: | 10:42pm |
| Moonset: | 10:49am |

Waning Gibbous
65%
Illuminated

UV Index Forecast
UV Index Forecast
NWS Forecast - Mission Trails - Outlook: Tonight & Wednesday
Tonight


Mostly Cloudy


Lo

44 °F

NWS Mission Trails: Mostly cloudy, with a low around 44. Calm wind.

NWS Inland Valleys: Today Partly cloudy overnight. patchy fog overnight. lows 38 to 45. light winds.

WXSIM forecast: Clear in the evening, becoming mostly clear after midnight. Low 39°. Wind east-northeast around 3 mph.

Wednesday


Decreasing
Clouds

Hi

62 °F

NWS Mission Trails: Cloudy, then gradually becoming mostly sunny, with a high near 62. Calm wind becoming west around 5 mph in the afternoon.

NWS Inland Valleys: Wednesday Partly cloudy. patchy fog in the morning. highs 58 to 63. light winds.

WXSIM forecast: Partly to mostly cloudy in the morning, becoming partly to mostly sunny in the afternoon. High 64°. Wind east around 4 mph in the morning, becoming west in the afternoon.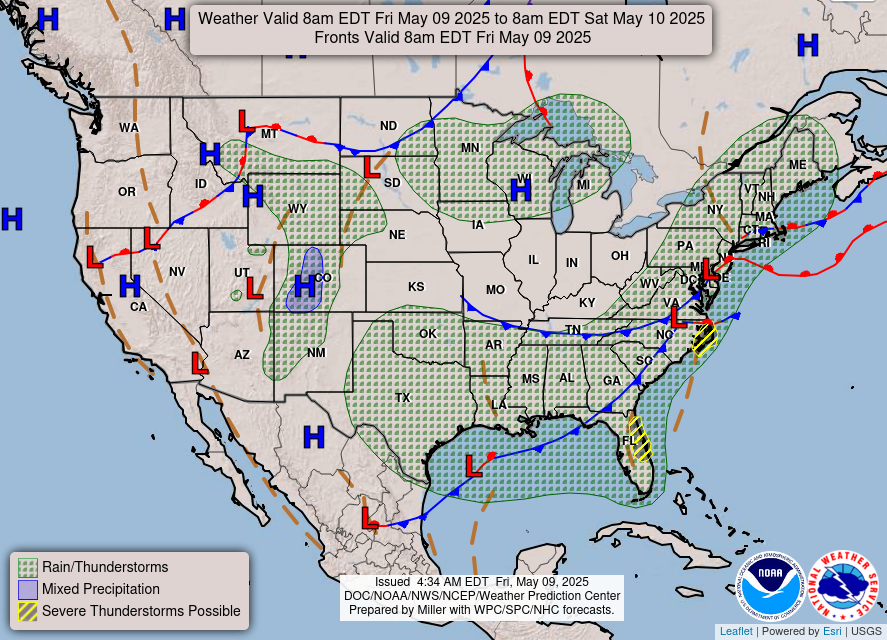 Strong West Coast Storm Wallops Washington, Oregon
This true-color image captured by the NOAA/NASA Suomi NPP satellite's Visible Infrared Imaging Radiometer Suite (VIIRS) instrument on January 10, 2017, shows the extent of the storm system that dropped several inches of snow over portions of Oregon and Washington and resulted in school closures, downed trees, and the loss of power to thousands of area residents. According to the Seattle Times, some neighborhoods in Portland received more than 1 foot of snow. Although true-color images like this may look like photographs, they aren't. True-color imagery is created by combining VIIRS's color channels that are sensitive to the red, green and blue (or RGB) wavelengths of light. In addition, several other channels are often also included to cancel out atmospheric interference, such as clouds and aerosols, which can cause a blurry picture. RGB composites are used in a wide variety of applications, including the monitoring of severe weather, differentiating snow/ice and ash/smoke from cloud, or even the boundaries between warm and cold air masses.
Courtesy of NOAA Environmental Visualization Laboratory