Updated:

@

Summary / Temperature
Wind
Rain
Outlook

65.6°F






Comfortable



Feels like:

66°F



24-hr difference
-0.6°F

Today
Yesterday
High:

66.5°F


11:29am
69.1°F
12:59pm
Low:

51.7°F


7:16am
45.6°F
7:04am

WSW




2.0


Gust:


4.2 mph

Bft -
Today:

10.4 mph

10:30am

Gust Month: 9.8 mph February 4

Rain Today:

0.00 in

Rain Rate (/hr):

0.000 in

Rain Yesterday:

0.00 in

This Month:

0.00 in

Season Total:

11.39 in

10 days since last rain.

Sunday


Sunny


Humidity & Barometer
Almanac
Moon

Humidity:

64

%
Dew Point:

53.1°F

Barometer:

inHg

3-Hr Trend:

| | |
| --- | --- |
| Sunrise: | 6:40am |
| Sunset: | 5:23pm |
| Moonrise: | 11:48am |
| Moonset: | 12:28am |

Waxing Gibbous
58%
Illuminated

UV Index Forecast
UV Index Forecast

30-Apr-2017
9.5

Very High

01-May-2017
9.6

Very High
NWS Forecast - Mission Trails - Outlook: Tonight & Sunday
Tonight


Clear

Lo

55 °F

NWS Mission Trails: Clear, with a low around 55. East northeast wind 2 to 6 mph.

WXSIM forecast: Clear. Low 50°. Wind west-northwest around 6 mph in the evening, becoming north-northeast around 3 mph after midnight.

Sunday


Sunny

Hi

84 °F

NWS Mission Trails: Sunny, with a high near 84. North northwest wind 2 to 14 mph, with gusts as high as 21 mph.


WXSIM forecast: Sunny. High 87°. UV index up to 10. Wind west-northwest around 4 mph in the morning, becoming 12 mph in the afternoon.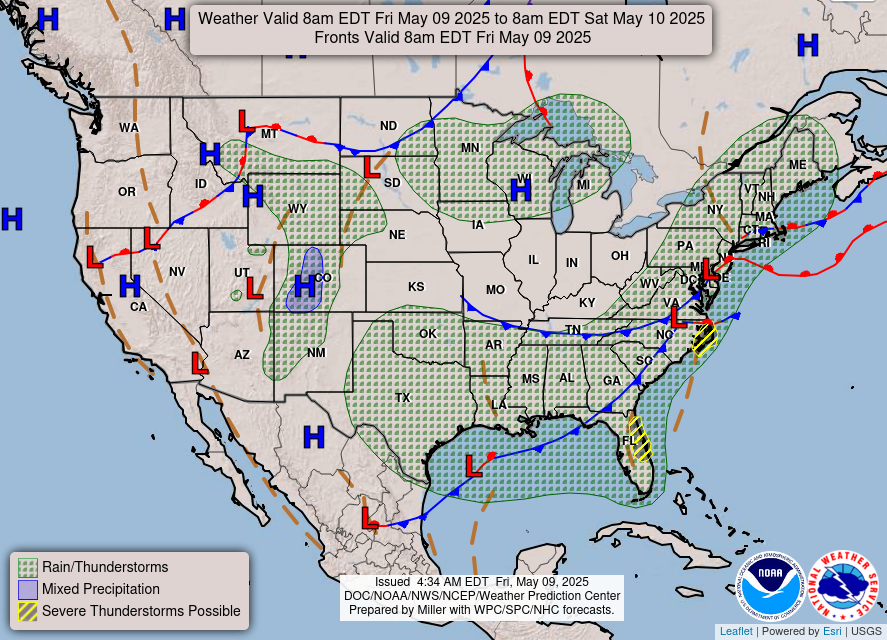 VIIRS Sees Severe Storms in the South
The Visible Infrared Imaging Radiometer Suite (VIIRS) instrument aboard the NOAA/NASA Suomi NPP satellite captured this true-color image of the weather system that produced severe thunderstorms in Alabama and Georgia and at least two tornadoes on April 27, 2017. According to the National Weather Service, the storms packed strong winds of 40 to 50 miles per hour, produced pea-sized hail, and frequent cloud-to-ground lightning. The storms came six years to the day after one of the worst tornado outbreaks in U.S. history wreaked havoc in the South on April 27, 2011. In that event, storms claimed the lives of more than 300 people and caused an estimated $10 billion in damage.
Courtesy of NOAA Environmental Visualization Laboratory