Updated:

@

Summary / Temperature
Wind
Rain
Outlook

mostly clear

70.9°F






Comfortable



Feels like:

71°F



24-hr difference
-6°F

Today
Yesterday
High:

74.4°F


12:31pm
77.2°F
1:35pm
Low:

54.3°F


7:10am
58.3°F
6:58am

WSW




5.5


Gust:


5.6 mph

2

Bft -

Light Breeze

Today:

11.5 mph

1:51pm

Gust Month: 15.4 mph October 15

Rain Today:

0.00 in

Rain Rate (/hr):

0.000 in

Rain Yesterday:

0.29 in

Storm Rain:
0.29 in
This Month:

0.29 in

Season Total:

0.71 in

1 rain day in October.

Friday


Showers
Likely



Humidity & Barometer
Almanac
Moon

Humidity:

63

%
Dew Point:

57.7°F

Barometer:

30.049 inHg

3-Hr Trend:
Falling

| | |
| --- | --- |
| Sunrise: | 7:00am |
| Sunset: | 6:04pm |
| Moonrise: | 2:24am |
| Moonset: | 3:29pm |

Waning Crescent
20%
Illuminated

UV Index Forecast
UV Index Forecast
NWS Forecast - Mission Trails - Outlook: Tonight & Friday
Tonight


Slight Chance
Showers


Lo

63 °F

NWS forecast: A 20 percent chance of showers after midnight. Mostly cloudy, with a low around 63. Northwest wind around 5 mph becoming calm.
Davis VP+ forecast:

Partly cloudy with little temp. change.

Friday


Showers
Likely


Hi

79 °F

NWS forecast: Showers likely and possibly a thunderstorm before noon, then a chance of showers. Mostly cloudy, with a high near 79. Light and variable wind becoming west 5 to 10 mph in the afternoon. Chance of precipitation is 60%.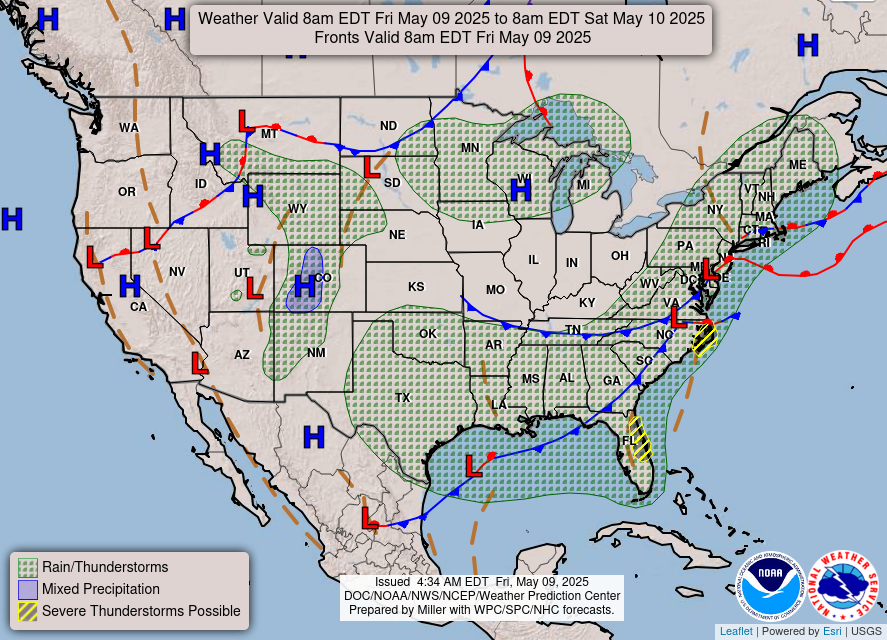 Mishraq Sulfur Plant Fire near Mosul, Iraq
Sorry... today's image is a movie or animated .gif file and cannot be reformatted to show here. Please visit the NNVL site to view it.
This series of daily true-color images were taken by the Visible Infrared Imaging Radiometer Suite (VIIRS) instrument aboard the NOAA/NASA Suomi NPP satellite over Iraq from October 18 through October 25, 2016. The very dark smoke is from oil wells that have been burning since early July. The Mishraq Sulfur Plant was set ablaze on October 21, resulting in the white smoke north of the dark oil smoke.
True-color imagery is created by combining data from VIIRS's color channels sensitive to the red, green and blue (or RGB) wavelengths of light. In addition, several other channels are often also included to cancel out atmospheric interference, such as clouds and aerosols, which can cause a blurry picture.
Visit NOAA View to see the area around Mosul, Iraq and the rest of the world.
Courtesy of NOAA Environmental Visualization Laboratory