Updated:

@

Summary / Temperature
Wind
Rain
Outlook

mostly clear

50.2°F






Cool



Feels like:

50°F



24-hr difference
-6.2°F

Today
Yesterday
High:

60.8°F


11:16am
63.4°F
12:11pm
Low:

49.0°F


1:50am
50.1°F
7:28am

W




0.0


Gust:


0.0 mph

0

Bft -

Calm

Today:

10.4 mph

1:25pm

Gust Month: 13.0 mph January 9

Rain Today:

0.00 in

Rain Rate (/hr):

0.000 in

Rain Yesterday:

0.02 in

Storm Rain:
0.00 in
This Month:

2.34 in

Season Total:

2.34 in

5 rain days in January.

Sunday


Mostly Sunny


Humidity & Barometer
Almanac
Moon

Humidity:

72

%
Dew Point:

41.5°F

Barometer:

30.117 inHg

3-Hr Trend:
Rising

| | |
| --- | --- |
| Sunrise: | 6:48am |
| Sunset: | 5:09pm |
| Moonrise: | 9:40am |
| Moonset: | 8:36pm |

Waxing Crescent
14%
Illuminated

UV Index Forecast
UV Index Forecast
NWS Forecast - Mission Trails - Outlook: Tonight & Sunday
Tonight


Mostly Clear

Lo

39 °F

NWS Mission Trails: Mostly clear, with a low around 39. West wind 5 to 10 mph becoming light and variable.

WXSIM forecast: Clear. Low 36°. Wind west-northwest around 5 mph in the evening, becoming east after midnight.


Sunday


Mostly Sunny

Hi

65 °F

NWS Mission Trails: Mostly sunny, with a high near 65. Calm wind becoming west around 5 mph in the afternoon.


WXSIM forecast: Sunny in the morning, becoming mostly sunny in the afternoon. High 67°. Wind east around 5 mph in the morning, becoming west in the afternoon.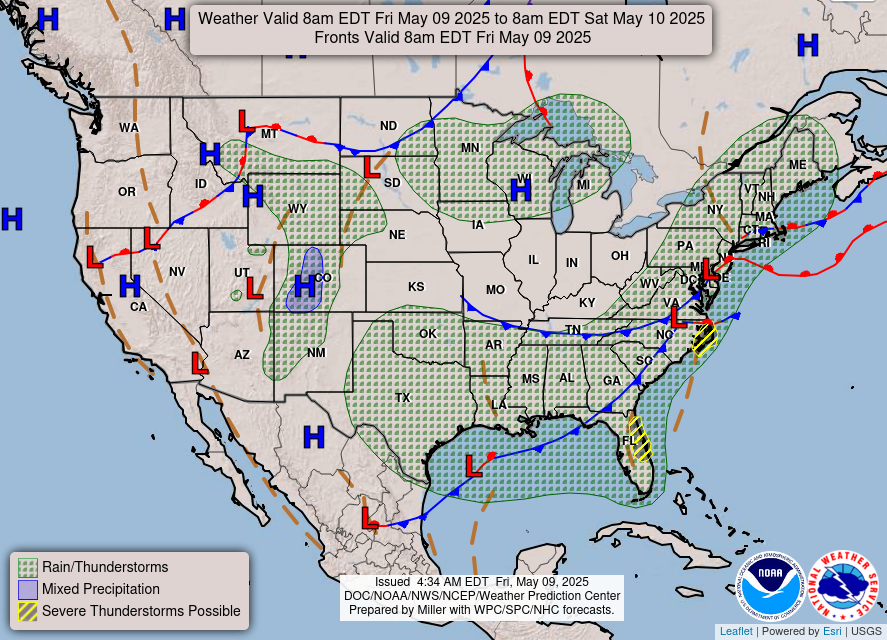 Current snow cover in the eastern United States
Clear skies enabled the GOES East satellite to capture this view of current snow cover over the eastern United States on January 18, 2018. An active weather pattern combined with below-normal temperatures this winter have brought accumulating snow as far south as Mississippi and Alabama for the second time in less than six weeks. In this image, a faint swath of snow is visible across southern Alabama and western Georgia. Brighter white areas indicate greater snow depths, as seen in parts of Arkansas, southern Missouri, Indiana and Ohio. Significant snowfall remains conspicuously absent in parts of the mid-Atlantic, including the Washington, D.C. area, as snow-producing storms have frequently tracked to the north or south of the region this winter. Created by our partners at the Cooperative Institute for Research in the Atmosphere, the GOES East geocolor imagery enhancement displays geostationary satellite data in different ways depending on whether it is day or night. In daytime imagery (shown here), land and shallow-water features appear as they do in true-color imagery, while at night, the window infrared channel 13 and the traditional fog product are used to identify both ice and liquid water clouds, and are made partially transparent against a static city lights background.
Courtesy of NOAA Environmental Visualization Laboratory