Updated:

@

Summary / Temperature
Wind
Rain
Outlook

---

65.2°F






Comfortable



Feels like:

65°F



24-hr difference
-9.9°F

Today
Yesterday
High:

87.7°F


12:45pm
92.5°F
1:16pm
Low:

64.0°F


2:38am
66.4°F
6:14am

WSW




0.0


Gust:


0.0 mph

0

Bft -

Calm

Today:

10.4 mph

10:52am

Gust Month: 14.0 mph July 15

Rain Today:

0.00 in

Rain Rate (/hr):

0.000 in

Rain Yesterday:

0.00 in

Storm Rain:
0.00 in
This Month:

0.00 in

Season Total:

0.00 in

40 days since last rain.

Friday


Patchy Fog then Mostly Sunny


Humidity & Barometer
Almanac
Moon

Humidity:

85

%
Dew Point:

60.5°F

Barometer:

29.963 inHg

3-Hr Trend:
Steady

| | |
| --- | --- |
| Sunrise: | 5:54am |
| Sunset: | 7:54pm |
| Moonrise: | 4:04am |
| Moonset: | 5:16pm |

Waning Crescent
7%
Illuminated

UV Index Forecast
UV Index Forecast
NWS Forecast - Mission Trails - Outlook: Tonight & Friday
Tonight


Patchy Fog

Lo

66 °F

NWS Mission Trails: Patchy fog. Mostly cloudy, with a low around 66. Southwest wind 1 to 5 mph.

WXSIM forecast: Clear. Patchy light fog in the evening, then moderate fog after midnight. Low 59°. Wind southwest around 2 mph in the evening, becoming east after midnight.

Friday


Patchy Fog then Mostly Sunny

Hi

84 °F

NWS Mission Trails: Patchy fog before 11am. Mostly sunny, with a high near 84. West southwest wind 2 to 9 mph.


WXSIM forecast: Sunny. Moderate fog in the morning. High 88°. UV index up to 11. Wind west-southwest around 4 mph in the morning, becoming 10 mph in the afternoon.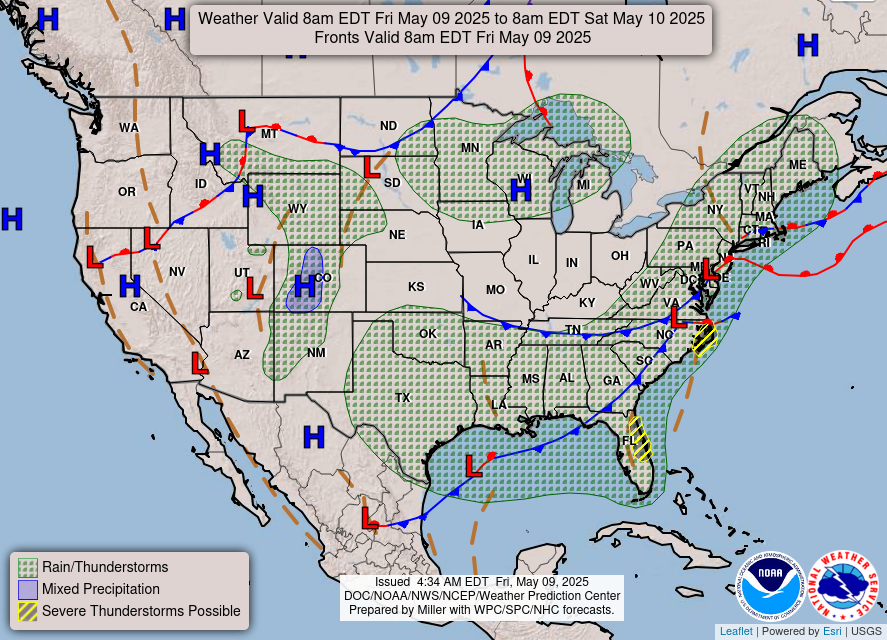 VIIRS Captures Image of Hot Spot and Smoke from California's Detwiler Fire
The Visible Infrared Imaging Radiometer Suite (VIIRS) aboard the NOAA/NASA Suomi NPP satellite captured this color-enhanced infrared image of the Detwiler Fire burning in central California on July 19, 2017. According to the most recent (7/20) information from the CALFire website, the Detwiler Fire has burned 70,096 acres, is 10 percent contained. To date, the fire has destroyed 45 structures and damaged 6 others. More than 3,000 firefighters are involved in the control effort and evacuation orders are in effect in some areas within southern Mariposa County. This color-enhanced infrared image was created with VIIRS high resolution bands 4, 2, and 1. The thermal sensitivity of band 4 generates the intense red color associated with active fires. To get a closer look at this image, or to see other aspects of our amazing Earth, visit NOAA View.
Courtesy of NOAA Environmental Visualization Laboratory