EXCESSIVE HEAT WARNING
-
SAN DIEGO COASTS
-
ORANGE COUNTY COASTS
-
SAN DIEGO VALLEYS
-
ORANGE COUNTY INLAND
-
INLAND EMPIRE
BEACH HAZARDS STATEMENT
-
SAN DIEGO COASTS
-
ORANGE COUNTY COASTS
RED FLAG WARNING
-
ORANGE COUNTY COASTS
-
SAN DIEGO VALLEYS
-
ORANGE COUNTY INLAND
-
INLAND EMPIRE
-
SAN DIEGO MOUNTAINS
-
RIVERSIDE MOUNTAINS
-
SAN BERNADINO MTNS
Updated:

@

Summary / Temperature
Wind
Rain
Outlook

Clear

73.9°F






Comfortable



Feels like:

74°F



24-hr difference
6.6°F

Today
Yesterday
High:

76.1°F


1:15pm
70.6°F
10:26am
Low:

50.1°F


7:13am
59.3°F
9:02pm

WNW




6.1


Gust:


4.2 mph

2

Bft -

Light Breeze

Today:

10.4 mph

12:10pm

Gust Month: 12.7 mph October 3

Rain Today:

0.00 in

Rain Rate (/hr):

0.000 in

Rain Yesterday:

0.01 in

Storm Rain:
0.00 in
This Month:

0.01 in

Season Total:

0.14 in

1 rain day in October.

Sunday


Sunny


Humidity & Barometer
Almanac
Moon

Humidity:

56

%
Dew Point:

57.3°F

Barometer:

29.984 inHg

3-Hr Trend:
Falling

| | |
| --- | --- |
| Sunrise: | 6:57am |
| Sunset: | 6:08pm |
| Moonrise: | 8:33am |
| Moonset: | 7:03pm |

Waxing Crescent
5%
Illuminated

UV Index Forecast
UV Index Forecast
NWS Forecast - Mission Trails - Outlook: Tonight & Sunday
Tonight


Clear

Lo

55 °F

NWS Mission Trails: Clear, with a low around 55. Northwest wind 5 to 10 mph becoming light and variable in the evening.

WXSIM forecast: Clear. High 79°. Wind west around 9 mph.

Davis VP+ forecast:

Increasing clouds with little temp change.

Sunday


Sunny

Hi

94 °F

NWS Mission Trails: Sunny, with a high near 94. Light and variable wind becoming northwest 5 to 10 mph in the afternoon.


WXSIM forecast: Clear in the evening, becoming mostly clear after midnight. Low 51°. Wind northwest around 6 mph in the evening, becoming northeast after midnight.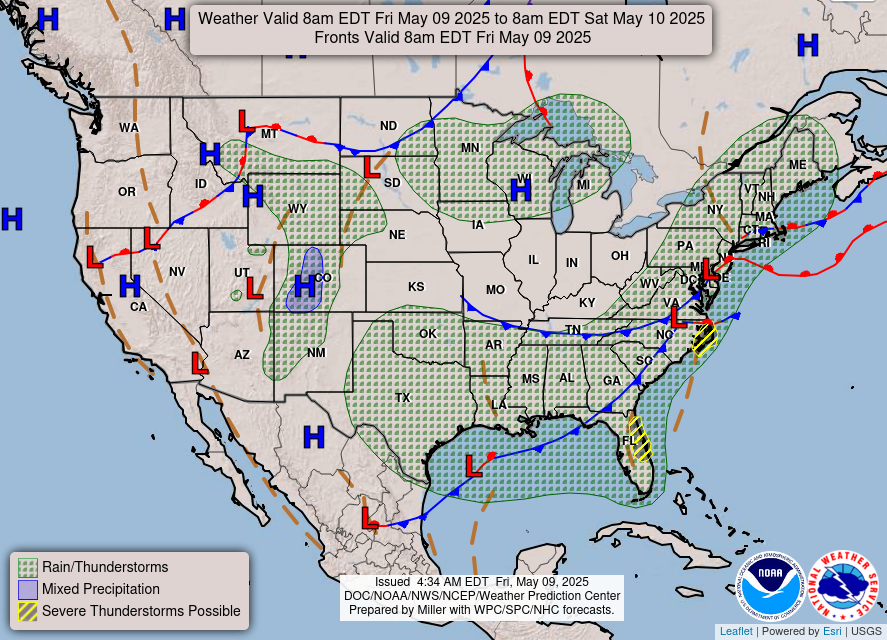 Clear Day over the Eastern United States
East coast cities along the I-95 corridor experienced a cool, dry day October 19, 2017. The Visible Infrared Imaging Radiometer Suite (VIIRS) instrument aboard the NOAA/NASA Suomi NPP satellite acquired this data as three spectrum channels sensitive to red, green and blue (or RGB) wavelengths of light, composed here as an image. In addition, atmospheric interference analyses using several other channels cancel out or correct blurry parts of the image.
Courtesy of NOAA Environmental Visualization Laboratory